View all posts
Manage the Stress of the Holiday Season
11/18/2019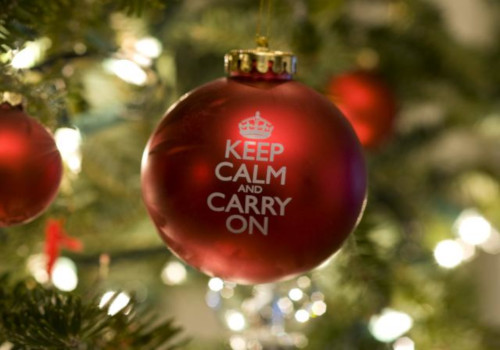 For some the holiday season is the most wonderful time of the year and for others it tends to be the most stressful. Putting together a gift list, planning family and friend gatherings and holiday shopping while also managing your typical day-to-day responsibilities can be overwhelming. During this time of the year there never seems to be enough hours in the day or quite enough money in the bank account. But we are a community bank that enjoys holiday festivities, so we don't condone pulling a Mr. and Mrs. Krank by cancelling them completely and booking a tropical cruise. Instead, we encourage you to follow these 3 tips for managing and hopefully eliminating some stress this holiday season.
Plan Ahead
This one is obvious to many, but it's also easy to lose track of time during the holiday season. With less hours of daylight, the days grow shorter – as if the hours we have aren't scarce enough in a full day! First things first, set a budget. This budget should be inclusive of gift shopping, decorations, food and travel. Determine how much you plan to spend on each person by making a list that names all those you plan to give gifts to. What do you need for decorations this year? Hopefully you were able to save a lot of decorations from last year by carefully storing them away.
If you're hosting or attending any holiday gatherings it might cost a few bucks to put together a crowd-pleasing recipe or two to share. Plan for what you will need to make or bring to these occasions and make sure it adheres to your pre-determined budget. Between family, friends and work holiday gatherings it can become quite costly. It might be necessary to prioritize which events mean the most to you and only attend those few. It will help ease the stress of traveling while also saving a few extra dollars on gifts and potluck dishes.
If you really want to get ahead of the game for next year, check out Citizen Savings Bank's All Purpose Club Accounts. Save as much or as little as you like throughout the year to help fund your holiday expenses. Choose to withdraw your accumulated funds plus interest in January, April, August, or October and relax knowing that you have saved a little now to earn a lot more to fund the next season of gifts, parties, and decorations.
Keep it Simple
Everyone at one point or another has been guilty of getting carried away during the holidays – it's hard not to! We strongly recommend not doing so and working hard to keep it simple, especially when it comes to gift giving! We all want to give the best gifts to our loved ones, but sometimes those gifts come with a considerable price tag. Instead of breaking the bank on material gifts this season, maybe sit down with your family and discuss DIY gifts or a price limit. Another great option is instituting a Secret Santa, this way you can still personalize the gift to its recipient, but now you only have to give one gift instead of multiple and everyone still gets a great gift! But really, the holidays aren't about gifts – it's about being able to spend quality time with your family and friends that you may not get to see as often as you like. So that's the real gift!
Everyone looks forward to holiday gatherings, we get to dress up in fun holiday attire, eat delicious food, and catch up with family and friends. However, if you are the person that the hosting burden falls on it can come with a lot of added stress, even if you say you love hosting. There's no reason why everyone attending your party can't bring a dish to share with the group. If you're hosting a dinner take charge of preparing the main dish and request that everyone bring a side dish, hors d'oeuvre, or a dessert. Be sure that everyone lets you know exactly what they plan to bring in advance to ensure that not everyone is taking the easy way out by bringing the infamous store-bought cookies or cheese platter. It's important that you delegate to your guests and don't try to do everything yourself! You were gracious enough to offer up your home as the venue, which probably means you did some top tier decorating and deep cleaning to prepare for this event.
Take Care of Yourself
Last, but not least, put aside some time for yourself! Whether it's isolating yourself to catch up on some reading, or maybe just taking a long walk. With so much going on this time of year it's safe to say time spent alone is unlikely and your usual routine has been uprooted. For many their exercise routine goes out the window once the holiday season arrives. But did you know that exercise can elevate your mood and help you manage stress better? Exercise releases endorphins which are brain chemicals that function as a natural painkiller. They have the ability to trigger positive feelings while reducing anxiety and stress.
Don't hesitate to treat yourself! If you stumble upon something you really love while you're out or online shopping for gifts, buy it. You deserve something nice for all the hard work you've been putting in to making everyone else's holiday. Maybe you've been wanting to splurge on a massage to help relieve some of that built up stress, go for it!
It's commendable that you are dedicating your time to prepare a holiday to remember for your loved ones, but don't forget your well-being is what's most important and to ensure you enjoy the holiday season. The holidays are about spending time with loved ones and creating lasting memories, not about shiny gifts or fancy food. Once you can make peace with that and follow the three tips above you will be sure to have a wonderful holiday season!
Learn More
Citizens Savings Bank has multiple locations throughout Lackawanna, Wayne, and Monroe Counties. For branch locations and hours, visit our website. We also have a Customer Support Team ready to answer any questions you may have. Call us today at 1.800.692.6279 or email [email protected]. Member FDIC.