Looking for certainty in an uncertain world? A Certificate of Deposit (CD) offers guaranteed earnings and a wide range of terms.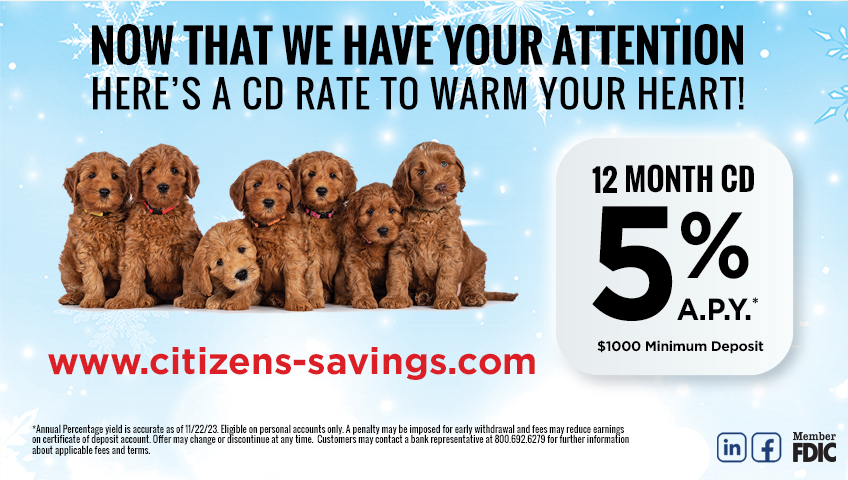 Key Features
Guaranteed Earnings
Wide Range of Terms
No Setup or Maintenance Fees
What is a CD?
A CD savings account offers guaranteed earnings at a higher-than-average interest rate. You commit to a certain amount of time in which you won't touch your initial deposit. Opening a CD is a great way to save for specific goals.
How Do CDs work?
Guaranteed earnings
Fixed rates, higher than regular savings

Receive higher rates by selecting a longer term

Provides more guarantee than other, riskier investments
Set aside for future savings goals
A wide range of terms available (from 91 days to 6 years)
Early withdrawals subject to penalty*

*Early withdrawal penalties:
Term of 1 year or less - 3 month's interest
Terms of 1 year to 5 years - 6 month's interest
Term over 5 years - 1 year interest

Renews automatically upon maturity after 6-day grace period
$1,000 minimum deposit to open
Open A CD Account Today!
Are you ready to open a bank CD? Still have questions? You can open a new CD savings account online in minutes or visit your nearest branch location in Clarks Summit, Scranton, Taylor, Honesdale, or Mount Pocono, PA.
You can also make the switch to Citizens Savings Bank today with our handy switch kit (PDF).