View all posts
Budgeting and Saving Tips for the Holidays
11/04/2019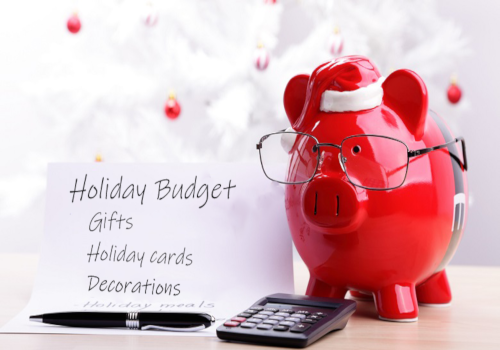 The holidays are quickly approaching and for many people this brings along an increased amount of travel, the joy of reuniting with family or friends, and the sometimes-difficult task of budgeting! It's important to stay mindful of your holiday spending, while you shop for gifts, browse airfare prices, and are purchasing groceries for your holiday gatherings. With enough planning, the right banking services, and a holiday savings account - you can go from stressed to success with a debt-free holiday season!
1. Make a List and Start Early.
Whether you're beginning to brainstorm gift ideas, or the lucky person who gets to host this year's holiday party, it's always best to start planning with a list and as early as possible. This way you'll be on track to establishing a clear roadmap of where to shop, and how much to spend. When you have a general idea of potential gift ideas, you'll be able to keep an eye out for any discounts and be more conscious of ways to save. Creating a list has been proven time and time again, to help consumers spend less despite all the temptations. Make sure you're prepared this holiday season with your trusted list and budget in hand!
2. Utilize Cash.
If you find it difficult to stay within limits when shopping, you can take advantage of the "envelope system" - a simple and easy-to-use money saving tip. There is no rhyme or rhythm for using this system, other than putting a set amount of cash aside in an envelope, colleting receipts as you spend, and ending your shopping once all the cash is gone. With this system you'll be sure to only spend what you planned for, and not go over budget or put yourself in an unnecessary amount of debt.
You can also maximize the amount of cash you gain through our Free Kasasa Cash Back Checking. Kasasa Cash Back Checking allows customers to get cash back on daily purchases and ATM fee refunds nationwide, allowing you to withdraw cash from anywhere this holiday season! Whether you are buying a plane ticket or shopping for a holiday dinner, you'll be able to earn more with Kasasa Cash Back Checking! You never know where your holiday plans will take you, be sure to have an account and debit card that you can bring along with you!
3. Track Purchases.
Make sure to keep track of your spending during holiday shopping ventures, to help prevent yourself from going over budget. Stay within your limits, by using Citizens Savings Bank's mobile app to view and track real-time transactions. With the CSB mobile app, you'll be able to receive alerts, and transfer funds between accounts as needed. It's the most reliable and secure method during holiday shopping that will give consumers control over their money. The ability to monitor your bank account anywhere, anytime will also help to eliminate any stress during the most expensive time of the year.
4. Avoid Debt and Plan for Next Year's Holidays.
If you plan to put a number of purchases on a credit card, stay mindful of how high your balance reaches. Keep in mind, that if you carry a high balance on a credit card the interest will most likely cancel out any rewards received. Credit scores can be negatively impacted by a high credit card balance, so it's best to avoid putting costly items that you can't pay in full on your card during the holiday season. To ensure you're not incurring large amounts of debt and protecting your money, rely on Citizens Savings Bank's debit card for security. Our debit card is embedded with chip technology, providing consumers with peace of mind when they make purchases with their card.
Once your shopping is complete take note on what worked well and what you plan to do again or reconsider for next year. It's never too early to start thinking about next year's holidays, upcoming vacation costs, or any other special occasions that you might need to put money aside for. Did you know that Citizens Savings Bank offers club accounts to help ensure you have the necessary funds to afford all of the gift giving, parties and more during the holiday season? Customers can save as much, or as little as they like throughout the year for Christmas gifts, trips, and more! This account also offers direct deposit throughout the year, so you won't have to worry about remembering to set money aside. Eliminate the stress of next year's holidays and learn more about our club accounts today!
Learn More
Citizens Savings Bank has multiple locations throughout Lackawanna, Wayne, and Monroe Counties. For branch locations and hours, visit our website. We also have a Customer Support Team ready to answer any questions you may have. Call us today at 1.800.692.6279 or email [email protected] Member FDIC.