eStatements
It's time to make the free switch. Trade the paper clutter for easy electronic statements. We promise you won't miss that stack of unopened envelopes. Losing the paper trail also means gaining security. The less you leave for identity thieves, the better you can avoid being a victim of fraud. Save yourself — and the environment — sign up for e-statements today!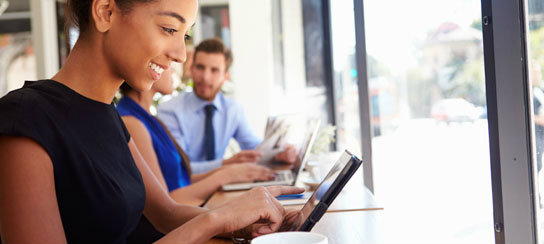 Summary
Save paper and save the environment
Fast, free, and easy alternative to paper statements
Easier to retrieve info when needed
Eliminate a paper trail
Reduce chances of fraud and identity theft
Arrive faster than paper statements
Simplify recordkeeping
Easily access past statements
Ability to download for permanent storage or print if needed
Receive email notice when new eStatement is ready
How to Get Started
For existing online banking customers: Log into your online banking accounts, then click on the Documents tab at the top of the page. Follow the steps here to enroll.
For non-online banking customers: You can still receive eStatements via email. Sign up to receive your eStatements today. Instructions for signing up by email.
Learn More
Note: To view and sign up for e-statements, please be sure you have ADOBE Acrobat Reader Version 9 or higher on your computer. As a courtesy, you can download the latest version during sign-up.
eStatement FAQs
Q. What are eStatements? eStatements are an electronic version of your monthly account statement.
Q. How much does it cost to get eStatements? It's FREE!
Q. How do I enroll in eStatements? You can enroll through your online banking service. Once logged into Online Banking, select the Documents tab, and follow the prompts on the screen to self-enroll or you can still receive eStatements through a separate login. Your primary email address will be setup to receive email notifications. Contact a representative in our Deposit Operations Department at 800.692.6279, option 1 during hours of 9 a.m. to 5 p.m. to take advantage of this option.
Q. What accounts can I receive eStatements for? You can receive eStatements on your personal checking, money market and statement savings accounts.
Q When will I receive my first eStatement? You'll begin to receive eStatements (and possibly one additional paper statement) after your signup is complete.
Q. How will I know my eStatement is ready? Each month, we'll send you an e-mail message to your primary e-mail address on file. The message will inform you that your statement is available for viewing online.
Q. What do I do if I am having trouble viewing my eStatement? You can call a branch office or the Deposit Operations Department at 800.692.6279 option 1.
Q. What if I forgot my login and password?
Online Banking Customers: contact the Deposit Operations Department for your login and for a forgotten password click on forgot password link.
Non-Online Banking Customers: contact the Deposit Operations Department for your login and for a forgotten password click on forgot password link.
Q. What do I do if my e-mail address changes?
Online Banking Customer: after signing into your account, go to options, then the e-mail section were you can edit your email address.
Non-Online Banking Customers: go to the bookmark you established for the eStatements link to view your eStatements or navigate to the Bank's eStatements page to login. Click on account access and then edit user settings where you can change your e-mail address.
Q. How safe are eStatements? Your account statement will no longer sit in your mailbox where anyone can take it. It is protected by individual passwords and encryption we will provide an e-mail notification to you and only you that it is available online to view. You will login into a secure website to retrieve it.
Q. Are eStatements official documents that I can use for recordkeeping, taxes, etc.? Yes, an eStatement can be treated exactly the same as a paper statement.
Q. Is there any special software required on my PC? To view your eStatement, you'll need to have Adobe Reader version 9 or above on your PC. You may obtain a free copy during sign up. You will need Internet Explorer 7 or higher or Firefox 3.0 or higher, Chrome or Safari 4.0. Cookies and JavaScript must be enabled and the Pop-up blocker must be turned off or enabled for the site you will access to view your statements.
For more information, please contact us or contact any convenient branch office at 1.800.692.6279
Make life easier with anytime banking.