View all posts
How to Hold a Safe Holiday Gathering
11/25/2020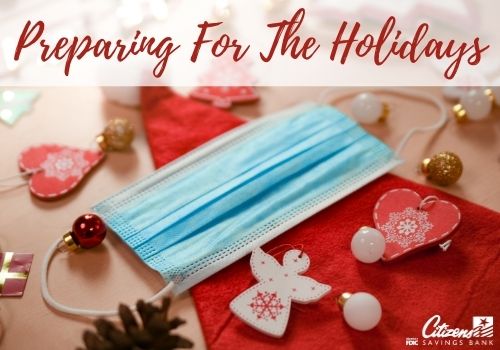 The holiday season is typically a time of celebrations and gatherings but this year presents some challenges due to the COVID-19 Pandemic. Before you toss aside your plans completely, consider some of the following things that might help you keep your plans on track.
Virtual Events
While you may not be able to get up close and personal, a virtual gathering still provides a way to interact with loved ones this holiday season. You may even be able to invite guests from out of town that wouldn't normally be able to travel to attend your event. There are also ways to get creative and have fun with a virtual event. You can plan ahead to have people send photos to show to the attendees, you can create polls or a Q&A about things like family history or fun facts about the holiday or event.
Consider the Venue
Holding large gatherings is still an issue in most public venues, so if you're considering having your event at a public place you may want to reconsider. Holding your gathering at a private residence poses less of a risk to you, your guests, and other patrons. Indoor events also pose more of a risk than outdoor events. This may not be a consideration as it gets closer to winter but if the weather permits, an outdoor gathering offers more space and an open area as opposed to a confined space.
The Number of Guests
Larger events obviously pose more of a threat than smaller, more intimate gatherings. One thing to consider is to hold a few smaller gatherings as opposed to one large one. If you're planning a virtual event this would be pretty easy to do! If you're set on having your gathering in person, you may want to consider reducing the number of guests you invite to lower the risk posed to yourself and your guests.
Consider Where Guests Are Coming From
If you plan to hold a gathering and invite any guests from out of town, consider what areas they are traveling from. Check the CDC website for locations that are being asked to quarantine for 14 days prior to travel, as you may have guests coming from these areas. You can keep an eye on the COVID statistics from that area as it gets closer to your event to make sure that you aren't inviting anyone from a place that has considerably high numbers of COVID cases. If you have a large list of guests from out of town, consider holding a virtual gathering just for your out of town friends and family. This way, you can still gather in person with locals but you won't miss out on spending some time visiting with your more distant loved ones.
If You Plan to Travel
If you plan to travel for the holidays, driving is much safer than flying or taking any other form of public transportation. You can also bring your own food if you want to be extra careful. The CDC suggests that as an extra precaution you can avoid contact with anyone outside your household for 14 days prior to attending an event.
If you do plan to travel by plane, be sure to wear a mask and abide by social distancing guidelines while in the airport to reduce your risk. You can also try to choose an airline that is not booking middle seats in order to help you keep a safe distance from others.
During the Gathering
For an in-person event, there are things you can do to limit your risk and help keep others safe. Using paper plates and cutlery that can be disposed of is better than using normal dishes that need to be washed. You don't have to worry about ruining your festive spread, these days you can find lots of holiday themed disposable items, even tablecloths.
Make sure that you and all guests wear masks and socially distance during your event. It might be tempting to take off the masks and exchange hugs with loved ones, but it isn't worth the risk. It will be difficult to abide by, especially if you have a lot of people, but you can appoint a person to be in charge of monitoring to help remind your guests to comply.
Make sure that you and all of your guests are practicing hand washing. You can place hand sanitizer on the table and around the venue to make sure everyone has the opportunity to sanitize their hands frequently. Anyone preparing food should wash their hands even more frequently and wear gloves. You can ask guests to wash their hands just before the meal and right after the meal as an extra precaution.
Try to have one person in charge of serving food if possible. If you can avoid passing dishes around or having multiple people serving food you can greatly lessen your risk. Avoid buffet style meals and platters for passing or sharing as much as possible.
Whatever your holiday plans are, be sure to stay as safe as possible by following the guidelines from trusted sources such as the CDC. You can still enjoy the holiday season while doing as much as possible to keep yourself and your family safe.
Learn More
Citizens Savings Bank has multiple locations throughout Lackawanna, Wayne, and Monroe Counties. For branch locations and hours, visit our website. We also have a Customer Support Team ready to answer any questions you may have. Call us today at 1.800.692.6279 or email [email protected]. Member FDIC.