View all posts
Maximize the Benefits of Using Your Debit Card for Holiday Purchases
10/21/2019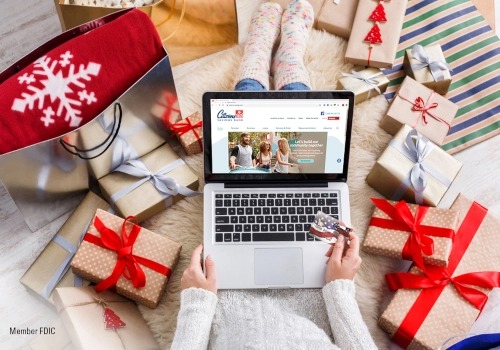 Between November and December online and in-store shopping is at its peak. Debit cards account for more than half of payment transactions, proving how often you'll be using your debit card this holiday season as well as potential risks you could be exposed to. The obvious advantage to using your debit card this holiday season is the simple fact that you'll be able to shop confidently knowing that you are only spending your money and not a creditor's, but you also might be wondering what benefits your debit card offers. Keep reading to learn how you can capitalize on your debit card use this holiday season while staying mindful of unwanted fees, scams and more!
Benefits
Everyone understands the fundamentals of how a debit card functions and its main purpose – to pay for things! However, there are so many additional features and benefits that can come with having a debit card – especially during the holiday season. Your CSB Visa debit card offers a lot of conveniences that will help assist you in your holiday shopping excursions, whether they be online or at beloved local businesses.
If you need to order something online because you can't find it anywhere in store, you can count on your debit card being able to help you complete that purchase, and if you're willing you can pay a little extra for expedited shipping to ensure your purchase arrives in time for gift giving day! Since Visa is one of the top two most widely accepted card brands it makes it much more convenient to use for your in-store purchases than standing in line counting change or writing a check out. If your favorite local business doesn't accept debit cards you can take advantage of one of the many 24/7 accessible Citizens Savings Bank ATMs to get the cash you need to wrap up in that thoughtful holiday card or pay for that purchase.
Debit cards are great like that – they can be used like a credit card without the debt that will sneak up on you later or you can use them to access cash quickly when you need it! But what about those debit cards that offer great features like rewards for purchases online or in-store or offer ATM fee refunds when you're out of town? Citizens Savings Bank has that covered too! Some of our checking accounts offer an array of rewards for maintaining balances, cash back rewards and ATM fee refunds – because we understand some of our customers spend the holidays away from home. Check out more of the benefits that come with Citizens Savings Bank's checking accounts, here.
Challenges
We are all guilty of making online purchases on less than trustworthy websites, especially when we are desperate to purchase that "must-have" gift item on someone's gift list and the only place you can find it is on an unsecure online store's website. The security of your identity and finances trumps the importance of any great online deal. Everyday consumers' personal information is put at risk due to the considerable number of cybercriminals trolling the internet. To ensure that your personal information is safe when making any holiday online purchases, make sure you are practicing the following:
Password security
Only shop on secure sites
Saving receipts and confirmation emails
Shopping on private and secure networks
Unfortunately, the internet isn't the only place where your debit card information can be stolen. Skimming devices are still out there. That's why it's crucial that you protect your pin number wherever you go, maybe even consider updating it every now and again to ensure your account is safe and secure. You should also stay on top of your bank statements to ensure that if your information isn't being jeopardized and that you are catching it in time to receive full fraud protection from your bank. Citizens Savings Bank also offers Kasasa Protect Fraud Protection to give you that extra peace of mind. It takes only minutes to activate.
Luckily, today we don't have to wait for our monthly bank statement to come in the mail, we have access to our accounts online, and at Citizens Savings Bank we also offer a mobile app where you can access your account anywhere, anytime to monitor and manage your debit card transactions. On top of that, Citizens Savings Bank's Visa Debit Card has the latest chip technology to ensure optimal security when making in-store purchases. We also understand that it can be difficult to be constantly logging into your online banking to review your transactions, so as a convenience to our customers our Visa Debit Card comes with the option to set up purchase alerts, which you will receive any time you pay with your Visa Debit Card – a qualified transaction is any transaction routed through Visa.
Before you go out and start your holiday shopping, you should familiarize yourself with any kind of limitations placed on your debit card purchases by Visa or your bank. Many banks also have daily spending limits on debit card purchases, which you can increase temporarily with a simple phone call.
There you have it, the benefits and challenges to using your debit card this holiday season. Save yourself the debt headache in 2020 and take advantage of money you have readily available to you. For those who have been setting aside savings in their club accounts year-round and opted to receive funds in October prior to your holiday shopping, congratulations – you're a step ahead!
Learn More
Citizens Savings Bank has multiple locations throughout Lackawanna, Wayne, and Monroe Counties. For branch locations and hours, visit our website. We also have a Customer Support Team ready to answer any questions you may have. Call us today at 1.800.692.6279 or email [email protected] Member FDIC.