View all posts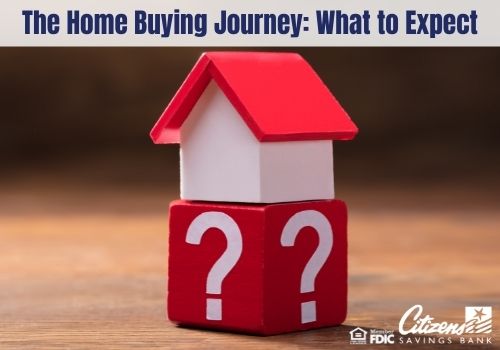 The Home Buying Journey- What to Expect
06/28/2021
For many first-time home buyers, the thought of buying a house can be very intimidating. There are many steps in the process, it's a large investment and choosing the wrong house or the wrong mortgage option could leave you with regrets for many years to come.
The first step in the process of buying a home (before looking at houses or checking mortgage rates) is to get your finances in order. Start by checking your credit score. It's free and easy. Federal law entitles everyone to a free credit report from all three of the major credit reporting agencies every year. That was changed to free reports weekly due to COVID-19. Weekly reports are free until April 20, 2022. After you view your credit report you can see what your credit score is and where you might be able to make some improvements, if needed. If your score is low, take some time to pay down any debt you might have and work on your credit score before you apply for a mortgage.
Hopefully, you've started saving for a down payment already, but if not, you'll want to do that. There are many different types of mortgages and there are programs for first-time home buyers to help with the down payment, but unless it meets certain criteria there will be some down payment required. Without assistance, most financial institutions require a 20% down payment, otherwise you will be required to carry Private Mortgage Insurance until you've satisfied the 20%. Some things you can do to save up quickly are to skip vacations for a year or two or to get a second job. You want to try to save up as much as you can before applying for a mortgage.
You will also need to set aside some money for the closing costs. The amount will depend on the terms of your mortgage, but on average it is around 3%- 6%.
Once you feel comfortable with your credit score and current finances, and you've got a plan for the down payment & closing costs, you can find out how much you can afford and start looking! (We know you've been looking at houses this whole time even though we haven't reached that step yet, and that's ok). By comparing homes in similar areas with similar features you can get a rough idea of what you'll need to borrow. Your lender can tell you how much you qualify for, and they can help you find the best loan product for that amount, but what you qualify for might not be what you want (or need) to borrow. Looking around to get an idea of the cost can be very helpful.
When you're searching for homes, don't forget to check out all off-line options as well as online. It's so easy to go online and browse listings, but there are lots of hidden gems that you won't find online. Many home owners will sell on their own and may have a sign up in their yard. Some home owners will place printed flyers in local libraries, grocery stores, etc. Don't be afraid to do a little leg work and explore the potential neighborhood you'd like to move into.
There are some suggestions when it comes to determining how much house you can afford. There are some free online calculators too. The general rule suggests that you don't spend more than roughly 28%- 30% of your gross monthly income on housing expenses. Remember, your mortgage amount will vary depending on your mortgage rate, taxes, fees, etc.
Once you feel you're ready to apply for a mortgage, you'll want to find a reputable lender. The lender you choose is very important because you will be working with them for the life of the loan, so…potentially 30 years. These days so many people just go looking for the latest offer on mortgages and jump on it. The lender you work with should walk you through the entire process and make sure you understand everything, every step of the way, before you move ahead. Customer service is something you'll want to consider too. It may not seem like it, but this can be just as important as the rate. Maintaining a mortgage and making payments over the life of the loan has the potential for some hiccups and when you need assistance, you want to feel at ease knowing your bank is going to be there to help you along the way. You may want to refinance that mortgage loan later down the road, or possibly get a home equity loan. If you choose the right lender, they'll be your partner through all of life's changes, knowing your unique situation and needs.
Once you choose a lender, you can get a pre-approval for a mortgage. This is something provided by your financial institution that states you are pre-approved for a certain dollar amount. This greatly increases your chances when placing a bid on a home, and many realtors will not place a bid without it. This is different from pre-qualification, which is more of an estimate and not a guarantee that you'll be approved.
Next you want to select a realtor if you don't already have one and begin looking at listings. Your realtor can help you find listings that match your criteria and schedule showings for you. If you've never worked with a realtor before, you can do some research online first. There are many articles about what to look for in a realtor. Once you decide on a home you want to buy, your realtor will help you make an offer. They have the knowledge to help determine a fair offer based on different factors. Your offer may include contingencies, such as a mortgage contingency or inspection contingencies. Your realtor can help you determine if any of these are necessary before making the offer. Once you make the offer, you will also provide a deposit or escrow to show the buyer you're serious about the purchase.
If your offer is accepted (yay!) you will want to move on to the home inspections. Find a professional home inspector to check for any major issues before you purchase the home. If you added an inspection contingency to your offer and a major issue is found you'll be covered. At this time your financial institution will want to do an appraisal of the home. They want to make sure the home is in good condition also and is worth the amount they are lending to you. The appraisal provides the value of the home.
If everything is in order with inspections and the appraisal, you're ready to close. Before your closing you'll want to visit the home one more time with your realtor just to make sure everything looks ok. Review the closing documents and disclosures in detail before the final closing. At the closing you will sign all of the legal documents and all parties will agree that everything is in order. You will then have to pay the closing costs. The title to the property will then pass from the owner to you, the new home owner!
Although it seems like a lengthy and complicated process, if you have the right team of lending professionals working with you the process will go smoothly and you'll be choosing your paint colors before you know it. Still have questions? View some of our mortgage FAQs here.
Learn More
Citizens Savings Bank has multiple locations throughout Lackawanna, Wayne, and Monroe Counties. For branch locations and hours, visit our website. We also have a Customer Support Team ready to answer any questions you may have. Call us today at 1.800.692.6279 or email [email protected]. Member FDIC. Equal Housing Lender.