View all posts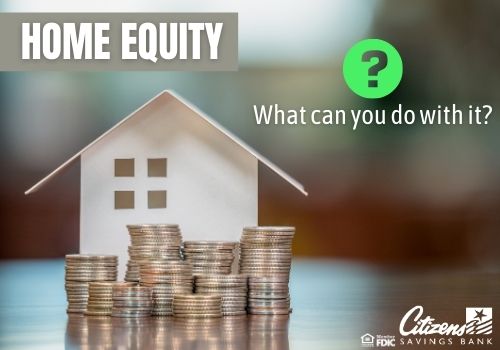 Home Equity- Tapping into Your Biggest Asset
04/30/2021
Home Equity- Tapping into Your Biggest Asset
When it comes to home equity every situation is unique. Maybe you inherited a property or bought a home and fixed it up so you have a lot of equity. Maybe the only equity you have built up is what you've paid off so far. Maybe you're not even sure how much equity you have. It definitely pays to know, and depending on how much equity you have available you might be able to do a lot more than you think.
We're going to pause and go back to anyone that might not know how much equity they have in their home. If you're thinking about using the equity in your home to pay for anything, you can't make a decision until you know how much you have available. You should speak to your bank or contact a Lending Professional in your area.
People with a lot of equity have a lot of options, obviously. Some people have a specific plan in mind when they purchase their home, and they plan to use the equity for that. For many people home equity doesn't really come to mind until they need a large sum of money for something or until they decide they want to use it. Here are just some of the ways that we have seen people use the equity in their homes.
We'll start with the most obvious which is home renovations. This is one of the most common uses for home equity loans. Again, the possibilities are endless and they all depend on your home. There's a reason you bought the home in the first place. You had a vision for it, and now you can make it come alive.
Some people decide to add on to their home instead of buying a larger home, some people might use it for landscaping or a pool, some might use it for new siding and windows. The options really are endless. The home improvements that need to be done should be tackled first, but imagine being able to fix the problem areas in your home and add something that will make it more comfortable or enjoyable too.
Another possibility that many people don't think of is using their home equity to pay for college tuition. If you take out traditional school loans the chances are, you're going to be paying higher interest rates. Why not lock in a low rate by taking a home equity loan instead? Federal loans through the government are also sold to other lenders, your rates will vary, and this can cause confusion and financial headaches. Avoid racking up high interest student loan debt by using the equity you've built up in your home.
Speaking of debt, another way to use the equity in your home is to borrow money to consolidate all of your high interest debt. There are traditional debt consolidations loans, but they typically carry a higher interest rate as well. Using the equity in your home to pay off your high interest debt can accomplish the same objective as using a traditional debt consolidation loan; you get one easy payment and you can get rid of the headache and stress of trying to manage multiple high interest debts.
A home equity loan can be used to pay for a big family vacation (maybe even the in laws), a wedding, a new garage, anything you can think of. The equity in your home is yours. You've earned it, whether it be by working on your home for years or getting a great price and fixing it up.
One last important (ok, very important) item to consider should be repayment. Please remember, it's great to have equity in your home that you can borrow or open a line of credit for, but you have to be able to pay it back somehow. While you're considering your options, you should also keep that in mind. Sometimes home equity is used to pay for things that aren't an option and we completely understand that too.
Your bank will be able to help you make sure you're able to take advantage of the equity in your home while keeping your payment manageable. Have questions or need advice from a trusted Lending Professional? Visit our website to learn more about home equity loans or apply online today.
______________
Learn More
Citizens Savings Bank has multiple locations throughout Lackawanna, Wayne, and Monroe Counties. For branch locations and hours, visit our website. We also have a Customer Support Team ready to answer any questions you may have. Call us today at 1.800.692.6279 or email [email protected]. Member FDIC. Equal Housing Lender.