View all posts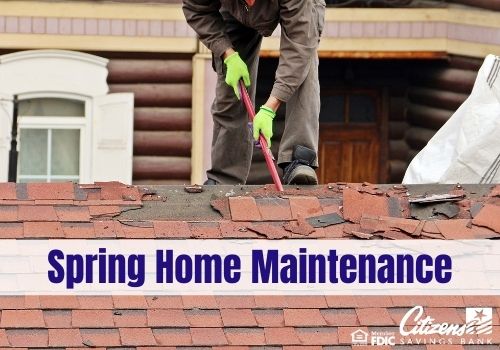 Spring Home Maintenance
03/22/2021
For the entire month of March, we've been sharing home maintenance tips for the spring. There are so many things to do it's easy to get overwhelmed. Instead of feeling like you have to get everything done right away you should make a list and prioritize your projects. Spring should be a time to enjoy bringing your home back to life after a long winter.
The first thing you should do is decide which projects you actually need to do. Maybe you don't have roof damage or maybe your landscaping survived unscathed. It's easy to overwhelm yourself with unnecessary projects when you're looking online and daydreaming about home projects. It's best to start with the projects that are necessary so that they're completed before you start anything new. You wouldn't want to end up spending all of your time and money on a new deck and having none left to fix the hole in the roof.
Here are some of the most common things that need attention or repairs in the spring.
The Roof- Wind and snow can cause some serious damage to your roof. Loose shingles can blow away or break, and snow and ice can build up under loose shingles causing them to break. Tree branches and debris from storms can end up on your roof or stuck in your gutters.
Pipes and Plumbing- You want to check for breaks and leaks in outdoor plumbing and pipes, particularly this time of year. Freezing and thawing can cause pipes to break. Be sure when you're checking them to check the fittings and nozzles to.
Lawn- Do a walk through and remove any garbage, holiday decorations, branches, and debris left over from winter. Check your lawn for problem areas. Harsh elements, heavy traffic, and pets can do damage to your lawn. Sprinkle some grass seed over any bare spots.
Outdoor Seating Areas- Clean up your patio and walkways. Wash dirty patio furniture, sweep away the dirt and dust, remove any debris or obstructions from walkways. Look for areas along your walkway that might need repairs too.
Clean and rejuvenate your flower beds. Remove all leaves, branches, etc. Let the earth breathe by tilling the top portion of the soil. Tidy up the edges and make sure you have a good foundation for your planting projects later on in the season.
If you do these simple things, your yard and the exterior of your home will be in great shape for the upcoming seasons. The most important thing is to enjoy it! If you're in need of repairs or you have big plans and don't know how to pay for it, contact us today. We can help you with a home equity loan or line of credit. Let's make those dreams a reality.
Learn More
Citizens Savings Bank has multiple locations throughout Lackawanna, Wayne, and Monroe Counties. For branch locations and hours, visit our website. We also have a Customer Support Team ready to answer any questions you may have. Call us today at 1.800.692.6279 or email [email protected]. Member FDIC. Equal Housing Lender.