View all posts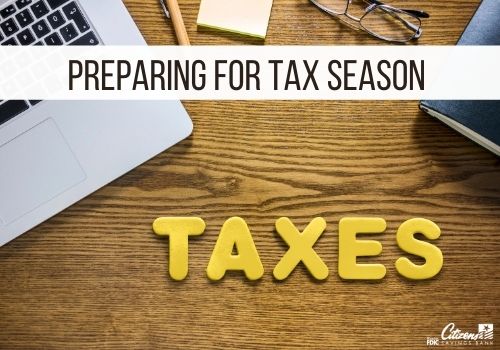 Planning For 2020 Taxes
01/13/2021
Tax season is right around the corner. Are you an avid self-filer? Someone that has a fairly simple return each year and has always found it easier to do on your own? Or do you have a more complicated return with dependents, expenses, maybe even a small business? Either way, this year there are going to be some things that are new to all of us.
COVID has impacted so many different aspects of our lives and our economy and has forced so many changes, most of them rapid and extreme. What we are just beginning to learn is the scope of the impact the pandemic will have on our tax season.
The IRS has been releasing reminders to taxpayers about getting ready for the upcoming season and some things to consider when planning to file.
We all know that there are going to be changes, but you can start making things easier on yourself right now by planning ahead. You can gather up all documents that you know you'll need for filing. This includes all of your normal items and anything new from this year as a result of COVID. This could be a statement from your retirement account showing any withdrawals you may have had to make, paperwork from unemployment, etc.
Here are some of the most common issues taxpayers are likely facing in 2020
Economic Impact Payments-
Over 150 Million Americans received Economic Impact Payments, but many never did. If you are one of those that didn't receive a payment or received only a partial payment, you may be able to claim the Recovery Rebate Credit. To learn more about the credit or if you might qualify, visit the IRS website.
For those that did receive an Economic Impact Payment, you don't have to pay it back, and it isn't taxable, so you don't have to stress over that. For information on exceptions or questions, visit the IRS Economic Impact Payment Information Center.
Charitable Distributions-
Normally, you can only claim donations to charitable organizations if you choose to itemize your deductions rather than take the standard deduction, which most people do. The CARES Act changed that. For your 2020 taxes, you can claim up to $300 in charitable donations even if you take the standard deduction. This was done in an effort to promote charitable giving during the pandemic.
Retirement Accounts-
There were many changes outlined in the 2019 SECURE Act that affected retirement accounts. The CARES Act also had some impacts on retirement accounts that may affect your taxes. The CARES Act granted account holders the ability to withdraw funds up to a certain amount without paying the 10% penalty for early withdrawal. Under the CARES Act, those with required minimum distributions can skip them this year.
No penalty doesn't mean no taxes to pay. You will likely still have to pay taxes, depending on your situation. You should discuss any withdrawals with your tax preparer.
Unemployment or Underemployment-
COVID forced many people out of work, and many had to file for unemployment as a result. Depending on the organization or program paying the unemployment benefits, your tax situation can vary. You will need to include unemployment compensation in your gross income, but whether or not it's taxable or by how much depends on your circumstances. The IRS has a page dedicated to Unemployment Compensation, and it can help to answer a lot of common questions facing taxpayers this year.
Underemployment. Many people lost their jobs completely, but some had their hours reduced or lost part-time jobs that were in addition to their full-time job. If you had your hours cut back, it's probably safe to say that you earned less than you did the year before. If your wages were lower, you may fall into a different tax bracket or you may be better off taking the standard deduction this year instead of itemizing. Changes in income can impact your tax return, so keep that in mind when you begin your tax prep.
On the contrary, if you are one of the many people that filed for unemployment and actually ended up earning more than you did when you were employed, you will also be impacted. Any changes in income will affect your tax return, and that includes earning more.
The C.A.R.E.S. Act-
The Coronavirus Aid, Relief, and Economic Security (CARES) Act provided opportunities for taxpayers to make an early withdrawal from a qualified 401K or retirement account. If the individual and the account qualify, a taxpayer can deduct funds from their account with no 10% early withdrawal penalty. As far as taxes go, they offer several options; pay the full amount in 2020 or spread the taxes over three years. Each individual can choose what they want to do.
If you took money out of your retirement, you will have to pay taxes on it this year, it just depends on whether you're paying the full amount or 1/3. That decision has to be made when withdrawing the funds.
There are lots of additional changes that affect businesses, but these things are changes that can affect any individual.
Whatever your tax situation is, you should spend some time looking at what's changing and how it may affect you before beginning your taxes. When considering your 2020 tax return, you should also look into the changes that were set to happen regardless of COVID, as some of them may affect you. These include new standard deduction amounts, income thresholds for tax brackets, certain tax credits, and an increase in retirement savings limits. Others, including deductions for medical and dental expenses, and state and local sales taxes have remained the same.
Citizens Savings Bank does not provide legal, tax or accounting advice. Please consult a tax professional with any tax related questions.
Citizens Savings Bank has multiple locations throughout Lackawanna, Wayne, and Monroe Counties. For branch locations and hours, visit our website. Member FDIC.