View all posts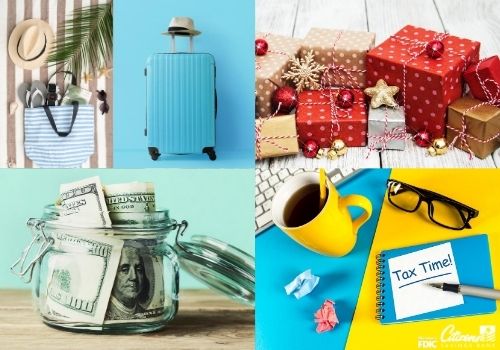 Club Account for Savvy Savings
09/16/2020
Ok, we know, Club Accounts have always been associated with the holidays and holiday spending. At one time, everyone had a layaway at a local store and a Club Account set up to pay for it. These days, shopping for the holidays is very different (a lot of it being done online) and smart consumers have learned that Club Accounts can be used for other things too!
What is a Club Account?
A Club Account is a savings account that you put money into for a set period of time, typically a year. You also earn interest. You open the account with a certain dollar amount and you set a savings goal. Then you determine how many payments you have until your future goal and determine a dollar amount for your payments. Your terms are defined by the savings goal and length of time.
In a way, a Club Account is like a savings calculator and manager for all of your savings goals! Club Accounts can be used to save for a variety of larger purchases, such as holidays, but can also be used for other things, such as vacations or travel, taxes, college enrollment, a down payment on a car, a home improvement project, and much more.
Your payments must be made to reach your goal, and there is a penalty if you withdraw your funds before the set date. Contact your financial institution to learn more about penalty details.
Why Choose a Club Account Over a Regular Savings Account?
A Club Account is a temporary savings account for a set future goal. A regular savings account doesn't have a predetermined time period. This may sound like a benefit for regular savings accounts, and it can be, but the purpose of a Club Account is to save for a predefined goal, which normally has a set date. If you set a date and calculate your payments based on that date, it allows you to be more disciplined in making your payments because you know exactly what you need to contribute to meet your goal. It also helps you determine the exact number of payments to spread them out evenly to make your goal more manageable.
A Club Account can be a great tool to teach savings discipline. It helps you learn how to budget for future purchases in a smart, and affordable way. The difference between doing this on your own and doing this through your bank is the interest you'll earn, of course.
At Citizens Savings Bank, we make it very easy to manage your Club Account from start to finish. There's no minimum balance to open an account. Payments for your Club Account can be set up as automatic withdrawals, so you don't have to remember to make a payment. It's a great way to put your savings on autopilot. There's also no penalty for making additional payments, so you can pay any additional amount at any time to boost your savings. You'll earn more interest too because it's based on your balance!
Whether you're thinking about saving for the holidays or a future vacation, a Club Account is a great way to save. As long as you have a date in mind you can determine how much you have to open an account and then set a savings goal. Set your payments on auto, sit back, and let the savings add up! As long as you don't withdraw your funds before the set date, you'll also be able to withdraw the interest you've earned. Discipline in saving can pay off, and there's no limit to the number of Club Accounts you can open. You can have one for the holidays, one for vacation, one for tax bills, etc.
Learn More
Citizens Savings Bank has multiple locations throughout Lackawanna, Wayne, and Monroe Counties. For branch locations and hours, visit our website. We also have a Customer Support Team ready to answer any questions you may have. Call us today at 1.800.692.6279 or email [email protected]. Member FDIC.