View all posts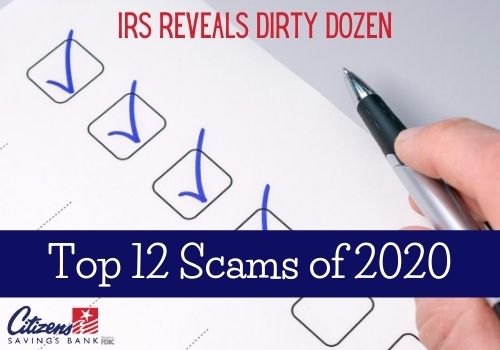 Top 2020 Scams to Watch Out For
08/07/2020
We know, scams are nothing new. Every time you turn around there's a new scam just waiting for you to let your guard down. As consumers we're constantly learning about new scams and how to avoid them, creating a mental inventory of everything to be on the alert for. 2020 has been no different, but as far as scams go, it may have been a record year.
Scams increase during certain times of the year, such as tax season, and also during times of crisis. A crisis, (such as a pandemic) creates the perfect opportunity for all different types of scams. During an event like a global pandemic, everyone is significantly more vulnerable and therefore, more likely to fall victim to a scam. The economy is struggling and people's financial situations have been impacted. These circumstances have created a breeding ground for fraud and scams.
Every year, the IRS releases what they call their "Dirty Dozen," a list of the top 12 scams for the year. This year they're focusing heavily on scams related to COVID-19 and consumer taxes.
Phishing- If you ever receive an email or a text message claiming to be from the IRS, prompting you to click on a link to provide information, don't do it! The IRS will never ask you to send or verify personal information through a link and they won't email or text you regarding your economic stimulus payment.
Fake Charities- In times of crisis, charities and non-profits provide assistance to so many in need, and those who are able to donate often come out in record numbers. But for every one of them there is someone looking to find a way to take advantage of this situation. Be sure to validate any charity you plan to donate to. You can request their EIN (Employer Identification Number) and look it up on the IRS website to verify that they are a registered charity or non-profit organization.
IRS Impersonator Calls and Threats- There have been a number of reported incidents involving an individual claiming to be calling from the IRS, demanding payment on false tax bills or some kind of other financial obligation. These calls have been reported as harassing and threatening. Threats of jail time, deportation, etc. have been among those that were used. The IRS will never call you demanding payment, and they will definitely never threaten you in any way. If you receive a call like this, just hang up.
Social Media Scams- Social media scams usually involve the use of messaging. You may receive a message claiming to be from a family member or loved one in need of assistance. During a quarantine situation where people are primarily interacting online anyway, this wouldn't seem so strange. They might ask you directly to send them money, or they may ask you to click a link that contains malware designed to steal your information. Never send money or click on a link in an unsolicited message unless you can verify its authenticity first.
Economic Impact Payment or Tax Refund Theft- Scammers have been known to file false tax returns in order to obtain refunds that don't belong to them. This year it also involved the theft of Economic Impact Payments (or stimulus payments). Scammers have been filing false returns in order to claim stimulus payments intended for others. If you believe you've been a victim of this type of fraud, you should contact the IRS directly.
Senior Scams- Senior citizens have always been a target of fraud and theft, but amidst the COVID-19 crisis, there are a number of new scams aimed at seniors. Seniors are advised to be aware of any potentially fraudulent emails or text messages, and should discuss these with a family member or caregiver before providing any kind of personal information.
Non-English-Speaking Individual Targeted Scams- There are specific scams targeting individuals that do not speak proficient English, which involve harassment and threats. This is often an individual posing as a representative from the IRS claiming to be attempting to collect payment on taxes owed. Threats of jail time or deportation are not uncommon. Remember, the IRS will not call you to collect a debt, and they will never threaten or harass you.
Unscrupulous or Ghost Preparers- Be sure to always select the right tax preparer when it comes to filing. Ghost preparers have increased over the last few years, but especially during the COVID-19 crisis. These unscrupulous tax preparers often promise larger returns as a result of fake tax credits. Avoid hiring an unverified tax preparer or signing any blank returns as the result of a promised "larger than normal" return or refund.
Offer in Compromise Mills- These are scams that claim to be able to settle any tax debt you may have for "pennies on the dollar." Misleading tax debt resolution companies can exaggerate changes to settle tax debt. There are programs available for consumers that fit very specific criteria in order to qualify. However, these scams offer them to people that are unqualified. They charge fees for their services and provide applications for programs you are likely to be denied approval for.
Fake Payment and Demand for Repayment- These scams are a bit easier to fall for because it involves you receiving an unsolicited payment first. Scammers will file false tax returns in order to have a refund deposited into your account. Once the refund has been issued, they contact you claiming to be from the IRS and demanding repayment. Most often, the repayment is requested via gift cards. You should report this immediately, and never send gift cards or provide personal information.
Payroll and HR Scams- These are email scams that involve phishing or spoofing. You may receive an email that appears to be from an individual from your organization requesting gift cards. It may appear to be legitimate, but you should always reach out to the person directly to confirm. On the other hand, your email account may become compromised and an email may be sent to your HR department requesting to update direct deposit information, in a plot to re-route your money to a different account.
Ransomware- Ransomware is not new, but it has remained a strong threat and is something to be aware of. It is malware sent through an email that is intended to infect your computer, network, or server. This usually isn't detected until after information has been compromised. Always be cautious of clicking any links, even those that appear to be from someone you know. If it's unsolicited, always verify.
With the list of scams growing rapidly, it's more important than ever to be mindful and protect your personal information. Rely on trusted sources such as the IRS for information on how to spot a scam and how to protect yourself. If you feel you have been a victim of one of these scams, you should contact the IRS directly.
Learn More
Citizens Savings Bank has multiple locations throughout Lackawanna, Wayne, and Monroe Counties. For branch locations and hours, visit our website. We also have a Customer Support Team ready to answer any questions you may have. Call us today at 1.800.692.6279 or email [email protected] Member FDIC.